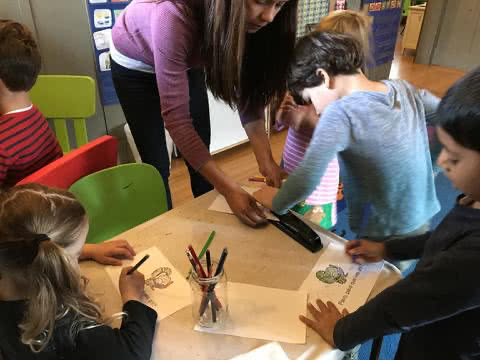 Introduce your child to new ways of learning
At Step by Step, Paso a Paso, we will explore a new theme every week that will introduce your child to new ways of learning. We promote developmentally appropriate practices that support learning through art, music, play, curiosity, exploration, and day-to-day routine. Our lesson plans are designed with your child's needs in mind.  At Step By Step, Paso a Paso, we believe in adapting to your child's needs, not your child adapting to ours. Our lessons are creative, inviting, and exciting to children. We believe in creating lesson plans that make your child want to participate and take part in the joy of learning.
We believe that preschool-age children can properly learn if they are presented with the proper curriculum that fits their learning needs and is age-appropriate.
Furthermore, we believe in teaching children new concepts through our workshops.
Correspondingly, the Step by Step program teaches children formal instruction through four different workshops: Fine motor Skills Development, Reading and Writing, Math, and Science.
The workshops are 30 minutes long and are teacher-directed. Additionally, we believe that the key to having a successful workshop is that the engagement level of the child has to be as high as play-based learning.
These workshops must also be conducted in small group settings (no more than six children) in order to maximize individual attention.
We also believe that these concepts are acquired in stages; a child must master the previous stage and have the desire to move on to the next stage.
Children are separated by ability, not age as we believe that all children learn at different paces.
Granite Bay Day Care 95746
Step by Step, Paso a Paso Workshops
Daily, our class will be separated for thirty minutes into two groups: Writer's Workshop or Fine Motor Skills Workshop. We separate the children based on ability, not by age as we believe every child progresses at his or her own speed. This is considered the more academic aspect of our curriculum. The key to our successful workshops is that the engagement level of our students has to be as high as play-based learning; therefore our workshops are very hands-on, engaging and fun for our students.
Writer's Workshops
The age group in this workshop is approximately 4 and 5 years of age. Children learn letter sound association and how to write their letters.  Once they have a firm knowledge of letter sound associate and letter formation, they are ready to start the early stages of reading. We also teach children to have a love of reading by exploring books and introducing reading comprehension skills. The children that have gone through our writer's workshop program enter kindergarten with the necessary skills and confidence, but most importantly, a love of learning.
Fine Motor Skills Development Workshop
The age group in this workshop is approximately 2.9 and 3 years of age. Children at this age learn best through exploring. The goal of this workshop is to develop children's fine motor skills, retention levels, cognitive development, and lay down a solid foundation where they can build upon as they grow. This workshop also helps teach children letter and number recognition, shapes, and colors. To keep the excitement of learning alive and keep our students engaged, a new learning theme is presented each week. Themes such as: the rainforest, outer space and under the sea inspire our daily fine motor skills workshop activity. By introducing a new theme a week, children are also exposed to more vocabulary. It is important that children at this age group develop age appropraite fine motor skills and teachers conduct early intervention if needed.
Spanish Immersion Aspect Of Our Curriculum
Daily Curriculum
Spanish plays a part in our daily curriculum.  According to experts, introducing children to foreign languages should begin as early as possible. For a child, the advantages of learning multiple languages at an early age are extremely valuable and continue long into adulthood. Statistically, children who study a second language score higher on standardized tests such as the STAR, SAT, and verbal standardized tests.  Language students also perform better in logical skills and math than do children with just one language.
Settings & Environments
At Step by Step, Paso a Paso, we believe in teaching your child Spanish by immersing them into the Spanish language and culture.  Throughout the day, your child will hear Spanish in many different settings and environments, thus circle time, learning station, and art class will be taught in Spanish. Language experts agree that benefits such as a strong sense of pride, higher self-esteem, higher literacy skills, and long term retention are all reasons to introduce a new language to your child. At Step by Step, Paso a Paso, our goal is to make learning a second language fun and exciting!
Play-Based Aspect Of Our Curriculum
At Step by Step
, we believe that giving your child a balance of learning through play and formal instruction is key to their growth. We believe in teaching the whole child as well as letting kids be kids. At this stage in a child's life, they learn best through their senses and play; thus, helping our students develop a solid sensory foundation is very important to us. Therefore, we believe in letting children explore, get messy with paint, mud, water, or whatever their little hearts desire. The play-based aspect of our curriculum is really inspired by our students; we follow their lead and their interests. Additionally, our outdoor nature playground was created to help develop their sensory development and encourage them to let out the child in them.